Hey,
I realize that the vast majority of us, students, are currently crying under our pillows because it is the end of the school year and exams are coming up. Therefore, this week's How To will be about getting your shit together and surviving through your classes until the end.
Also, if you feel that your grades are sinking, you can also check out my How To: Submit an Assignment in time.
Good Luck,
Jess (Artistic Team Director)
Sleep well: don't sleep too late, you'll regret it in the morning. You will be super tired, and it will impact sooo many aspects of you that are vital for your survival during the end of the year: your concentration, health, temper…
Your exams are coming up ? I know that Fortnite's new season is out, but you should focus on your studies first: organize your notes and revisions so that you'll be ready to go over them a few weeks/days before without rushing everything. Also, if you do it early enough, you'll have more time to play Fortnite without stressing about your future.
Use a weekly or daily planner (or DIY it for more fun lol). Yes, it's annoying. Yes, you probably won't even follow it. But it really helps with managing your time, especially for homework and studies.  
Find yourself a study buddy: a serious person (a friend?) with whom you'll really study. You can also go to the library for a more serious atmosphere. It truly works.
Finally, as Morty Smith cleverly says: "Well then get your shit together, get it all together and put it in a backpack, all your shit, so it's together. And if you gotta take it somewhere, take it somewhere, you know, take it to the shit store and sell it, or put it in the shit museum. I don't care what you do, you just gotta get it together. Get your shit together."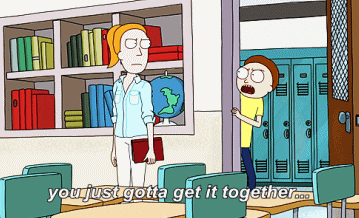 Please reload